S700MC Plates
S700MC cool framing steels are thermo-mechanically come in current plants where the warming, moving and cooling procedures are painstakingly controlled.
S700MC substance dissection, comprising of low levels of carbon and manganese has exact expansion of grain refiners, for example, niobium, titanium or vanadium. This together with a clean structure makes S700MC Steels the most focused option for frosty framed and welded items. S700MC with assignment D and E meet and surpass the requests for steel S700 in EN-10149-2.
S700MC Plates, S700MC Plates Manufacturers, S700MC Plates Suppliers, S700MC Plates Stockists, S700MC Plates Exporters, S700MC Plates Traders, S700MC Plates Dealers, S700MC Plates Importers, Authorised Distributors Of S700MC Plates, Authorised Exporters Of S700MC Plates, authorized Traders Of S700MC Plates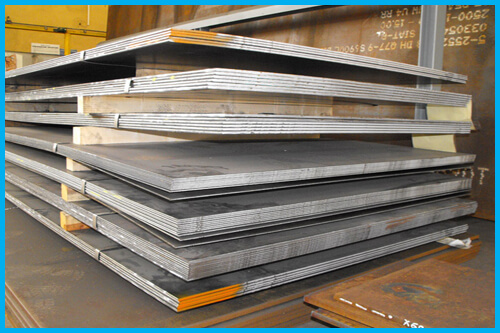 S700MC Plates Manufacturers in Mumbai, Authorised Importers Of S700MC Plates, Autorised Suppliers Of S700MC Plates. S700MC Plates Suppliers In Mumbai, S700MC Plates Stockists In Mumbai, S700MC Plates Exporters In Mumbai, S700MC Plates Traders In Mumbai, S700MC Plates Dealers In Mumbai, S700MC Plates Importers In Mumbai
The additional high quality steel evaluations are utilized as a part of uses, for example, truck body, cranes and earth moving machines. In these applications, the high quality of the steels is utilized to spare weight and/or to build the payload. As a consequence of this and the great formability of the steels, the aggregate expenses can be diminished. Normal applications are vehicle chassis, holder casing structures, steel extensions and building developments, chimney stack cases, rail wagons, snow sheds, various types of poles i.e. applications where a consumption safe steel is required together with high quality.
Also, this steel is climate safe, i.e. amid open air use inside several years, a smooth minimal oxide layer is framed that restrains further consumption. S700MC characterized by weldability, impact toughness, formability, high strength, corrosion resistance.
CHEMICAL COMPOSITION
| Grade | Al max | B max | C max | Fe max | Mn max | Mo max | P max | Si max | S max |
| --- | --- | --- | --- | --- | --- | --- | --- | --- | --- |
| S700MC | 0.015 | 0.0050 | 0.12 | 97 | 2.1 | 0.50 | 0.025 | 0.30 | 0.010 |
MECHANICAL PROPERTIES
| Ultimate Tensile Strength | Yield strength Rp 0.2, min MPa | Elongation at Break | Impact | Bend radius (Minimum) |
| --- | --- | --- | --- | --- |
| 750 - 950 MPa | 700 MPa | 10 - 12 % | 71 J/cm²; -20°C | 1.0 t - t(3mm; internal bend radius, 90°) |
Download S700MC PDF

View S700MC PDF
S700MC Plates Manufacturers in India,Authorised Distributors Of S700MC Plates In Mumbai, Authorized Exporters Of S700MC Plates In Mumbai, Authorized Traders Of S700MC Plates In Mumbai, Authorized Importers Of S700MC Plates In Mumbai, Authorized Suppliers Of S700MC Plates In Mumbai